Borderline Alum and Coaches Win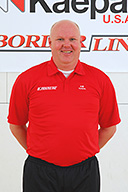 Jon Bennett: Lady ThunderHawks Coach and Borderline Coach
MUM Women are Ohio Regional Campuses (ORC) Volleyball Champs! Miami University Middletown's Women's Volleyball Team was unstoppable last weekend in Newark as they clinched the ORC State tournament.
In their first match the #6 seed Lady ThunderHawks defeated #11 OSU Lima in straight sets (25-12, 27-25, 25-18). Their next match was against # 3 OU Chillicothe. A team they split with in the regular season. MUM defeated the Hilltoppers (25-16, 25-21, 25-17). The win advanced the MUM women into the semi-finals against #2 seed OSU Marion. This was the second time that MUM had faced Marion. The regular season match was a hard fought five set loss in the regular season. This match was also a hard fought match, however this time the Lady ThunderHawks prevailed (33-35, 25-16, 25-23, 18-25, 15-11).
Miami Middletown would face #1 seed and seven-time defending champion OSU Newark in the finals. MUM would drop the first two sets of the match but battle back to win the next two sets to force a fifth and deciding match. In the fifth game the Lady ThunderHawks would go into a different gear and win set five and the ORC State Championship. (MUM defeated OSU Newark 11-25, 22-25, 25-23, 25-22, 15-6) MUM ended the season on a seven-match winning streak.
"We played well all weekend," said Coach Jon Bennett. "After our quarterfinal match I told my assistant that we were starting to play at a different level. Our game against OSU Marion was one of the best matches that I have ever seen. It was intense from point one through the last. I was a little concerned with how much energy we spent to get to the finals. OSU Newark is a very good team and a proven champion. After the first two sets I walked into the huddle and Leslie Gray was saying "We didn't play this hard to lose." All I said was "Go do it." The girls stepped up and played at a level we have not seen all year."
Miami was awarded two all tournament awards (Leslie Gray, Dana Hamblin) and MVP (Dana Hamblin).