Borderline 13 Attack Wins Gold at the NKJV 2005 ACES Challenge!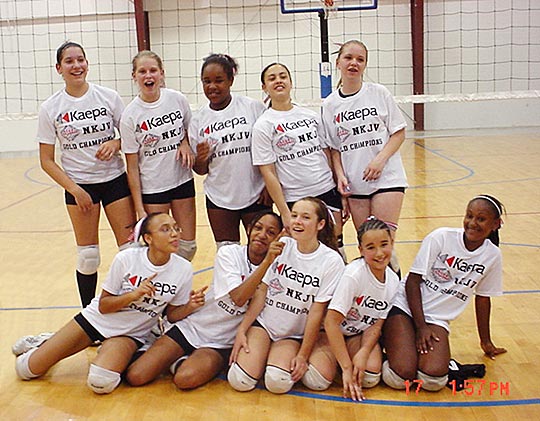 On Saturday, April 16, Borderline 13 Attack took first place in their pool at the NKJV ACES Challenge. They went 4-0 for the day, starting with a forfeit win over OHVA-White. In match #2 they met Team Indiana – Wolverines, winning 25-15 and 25-5. Match #3 was the first face-off with one of several MAVA teams. Attack took control early, beating MAVA-Potempa, 25-14 and 25-15. Attack rounded out their pool play by defeating a spunky MAVA 12-1 team, 25-15 and 25-22.
Sunday's first match-up for the day was against the host team, NKJV-Purple, who where fired up and ready to play. After a slow start, the 13 Attack pulled it together for a 25-22 win in the first game and a 25-18 win in the second. The semifinal match was with MAVA 13-2. The Attack ladies came out on fire, winning 25-13 and 25-20.
In the championship game, 13 Attack played EVRC 13-Hay from Evansville, Indiana. The Attack team knew that this match would be quite a challenge with the obvious height advantage of the 13-Hay team. This truly special group of young ladies on the Attack team all stepped up to the challenge and won, 25-14 and 25-22. Great job!
Kasey, Shawnice, and Olivia led the team this weekend in serving aces with 15, 9, and 8. Mariah had 5 aces and served 7 in a row to win the second game of the semifinal match. Attack served 95% in the last two gold medal rounds. Tasha, Jordan, Jessica W., and Jessica L. looked fantastic in serve receive all weekend. The team made many digs, making sure the ball was not going to hit the floor. In the last match, everyone on the team had at least 2 digs! Olivia and Kelci led the team with 25 and 16 kills, and Jessica L. and Kasey each had 12. Shawnice and Kelci led the team in blocks! With the help of great passes, Noelle did an awesome job of setting the ball this weekend.
13 Attack didn't loss a game all weekend, picking their level of play up each and every game, doing whatever it took to win with great class! Jodi and I are very proud of our team!