16 Hawks Win Gold at Home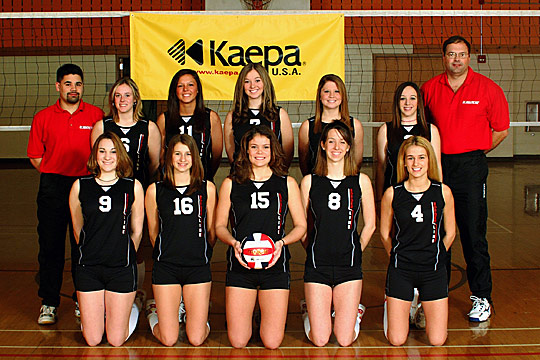 Borderline 16 Hawks opened their first home tournament with an all-day solid performance, winning their first tournament of the year. The Hawks started out on fire against the Midwest Elite McGinnis. Julie Gunther was a serving machine in the first game, running off 16 straight serves as the Hawks set the tone of the day, thumping Midwest, 25-5. The Hawks continued their strong play through games 2 and 3. In game 2, Karyn Powell gave assists to seven different players, and the Hawks again triumphed, 25-12. In game 3, the Hawks had multiple kills from Jessi Whitely, Savanah Bertsch, and Ashley Savage, and Julie Gunther came up with 7 big digs as the Hawks swept Midwest, 25-14.
Team Atlantis was up next for the Hawks. The Hawks started slowly the first game, and Atlantis jumped out to an early with the Hawks finding themselves down 1-10. But the Hawks picked up the rhythm of the game and regained some momentum before they fell, 12-25. Game 2 was a hard-fought battle with solid kills from Kat Howard, Tara Wentzell, and Jessi Grimes as the Hawks prevailed, 25-23. Game 3 was much like game 2 going right down to the end. Key jump serves from Ashley kept the flow on the Hawks' side as they won game 3, 26-24. The Hawks rolled on in game 4 to a 25-16 win behind solid passing from Savanah, Julie, and Sam Baeten.
The first round of playoffs was an emotion game against another solid Borderline team, 16 White. White jumped out early with a high-emotion charge to a 6-1 lead. But the Hawks got on their own roll with strong defense from Emily Chafin and Julie Gunther. Jessi Grimes, Tara, Emily and Karyn all collected multiple kills as the Hawks rolled to a 25-15 win. Game 2 was more of the same, as the Hawks continued to a 25-12 win.
The finals were between the very solid Dayton Jrs #&8211; 16-Ferguson team and the Hawks. Dayton Jrs played solid defense in the first game, winning 15-25. But game 2 was a different story. Karyn moved the ball around, frustrating the Jrs' defense. Tara saw abundant sets, keeping the Jrs' defense off balance. Big blocks from Jessi and Jessi controlled the net as the Hawks won game 2, 25-14. Game 3 saw a strong start as Kat Howard, Tara, and Jessi Grimes controlled the net on offense and defense, and Jessi Whitley rolled off 8 straight serves as the Hawks jumped off to a 10-1 lead and cruised to a 15-5 win. This was a great confidence-building tournament for all the Hawks as they prepare to head to Toledo next weekend.