Borderline 14 Red Has Amazing Weekend! (4/18-19/09)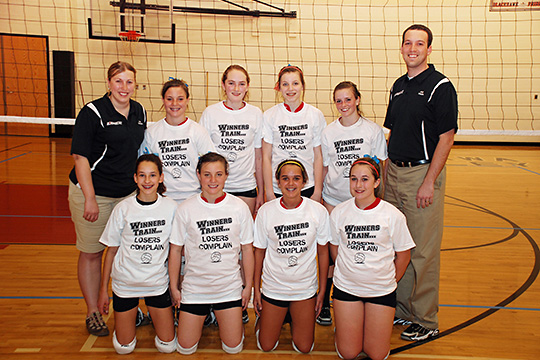 April 18, 2009
14 Red started off the weekend at Mississinawa Valley High School in Union City, Ohio. In pool play 14 Red soundly defeated RAC Attack and Club Pura Vida 14 – Orange in 2 sets. For the final game of pool play 14 Red squared off against their season rivals, Preble County Volleyball Club MA 14s. 14 Red prevailed, winning the match in three sets and with it, first place in their pool.
When it came to tournament time, 14 Red was fired up and ready to play. In the quarterfinals 14 Red played Green County VBC – Stratton and easily won in two sets. In the semifinals, 14 Red played their best volleyball of the year and defeated Grandlake VBC – Naseman in three sets. Coming off of their strong semifinals performance 14 Red went on to again soundly defeat Pura Vida 14 – Orange in two sets to claim their second tournament victory of the season.
April 19, 2009
On Sunday morning, 14 Red arrived at Sports Express in Mason, Ohio to find out that two of the sixteen teams had dropped out of the tournament. Because of this, the pools were shifted around and 14 Red found out they would be playing Borderline 14 White Ice to start the day. 14 White Ice put up a fight, but 14 Red came out on top, winning in two sets. In their second match of the day, 14 Red faced off against Kaepa Buckeye 14 Black. In set one, 14 Red pulled out a close one, 25-23. In set two, 14 Red squandered a 24-22 lead to lose 24-26. In set three, 14 Red came out determined and stomped 14 Black, 15-5. From there, 14 Red went on to play Team Xtreme 14A in the last game of pool play and in the quarterfinals. 14 Red defeated Team Xtreme in two sets, both matches. In the semifinals 14 Red faced the number one team in the OVR, SOVC – Pumas. 14 Red played with a lot of heart, but came up short.