Hawks Win Air City Chicks – Volley For a Cure (2/21/10)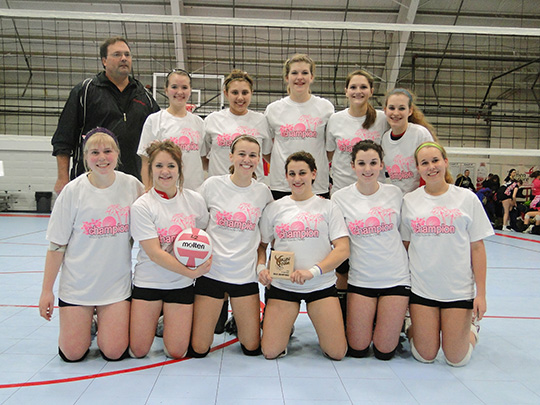 The 16 Hawks fought through a tough playoff, winning Air City Chicks 17 Under Volley for a Cure. The Hawks play solidly through pool play and found itself against a very solid Borderline 16 Red team. Jon Bennett always has his team ready and it was a dog fight from the very beginning. 16 Red was short handed due to injuries and played scrappy with tough defense and solid serving took us to the limit. But in the end the Hawks came out on top in an emotional 3 set match.
The Hawks face Air City 17 Pink in the finals. Pink took the first set, but the Hawks dug deep and took them to three and came out on top. I can't say enough how Heather Siefert ran the offense and ended the day with 88 assists. Chole Janson was tops in kills with 24 and had 13 solo blocks. Alex McPherson had 21 kills before a nagging injury forced her out of the final two sets. Say enough how this is a total team effort. Kylie Annuziata had 11 kills and 6 solo blocks and really is learning the middle. Rebecca Thiem had 17 kills, Vanessa Lay had 13 against very solid blocks. Becca Robben led the team with 92 diggs and Taylor Ruder came up with 37 digs. Jessica Conrad had 6 kills and 15 digs and Hannah Kinch had 12 digs and both will go front row back in any rotation I ask them. The key again was all the players buying into what I'm teaching and playing as a team.