16 Hawks Dominate "Nothing' But Net" (3/21/10)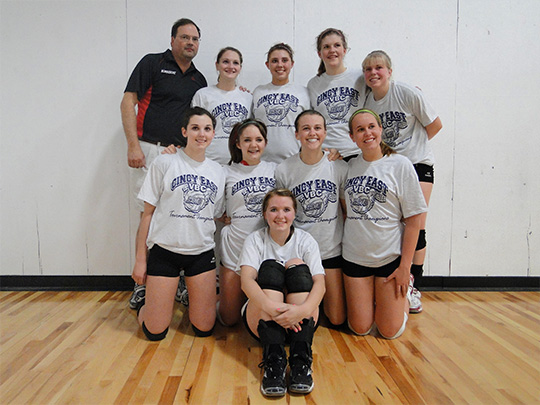 It may be the big dance time in one sport, but it was Borderline 16 Hawks and Red that dominated the nets at the Nothin' But Net tournament this past weekend. 16 Hawks ran through pool play like a machine with Chole Janson and Kylie Annunziata dominating the net both offensively and defensively. Heather Siefker ran a potent offense, getting the ball to the three-headed hitting monster of Rebecca Theim, Alex McPherson, and Vanessa Lay who pounded the ball all day long on the outside attack, giving the Hawks a +69 point differential after pool play.
Defensively the Hawks hit the floor time and time again digging balls and making plays. Jessica Conrad and Becca Robben were locked in on passing, and Hanah Kinch made some great digs, as did Kylie Annunziata. Relentless would be what stands out in my mind seeing Kylie in a full-out dive digging a ball. That effort was contagious all day for the Hawks, in pool play and in the playoffs.
We were not challenged until the finals. It was a Borderline showdown. 16 Red powered through the tournament the same way, setting up a dog fight in the finals. The Hawks come out on top for the first set, and Jon Bennett made some adjustments and got momentum back, winning the second set, forcing a third-set showdown.
16 Red had played a third set in earlier in their semifinal match, and I was looking at the scoreboard and it was 14-0 and had this in the back of my mind on how dominant Red can be. I knew we would be in for a slugfest, and I have to tip my hat to the entire 16 Red team while recognizing Emily Oberschlake digging relentlessly and Lil Krekeler pounding the ball. But in the end 16 Hawks came out on top. I also have to thank all the Borderline parents from both teams for cheering on all the Borderline players throughout the entire tournament.