18 Hawks Won Gold at Phillips! (4/21/13)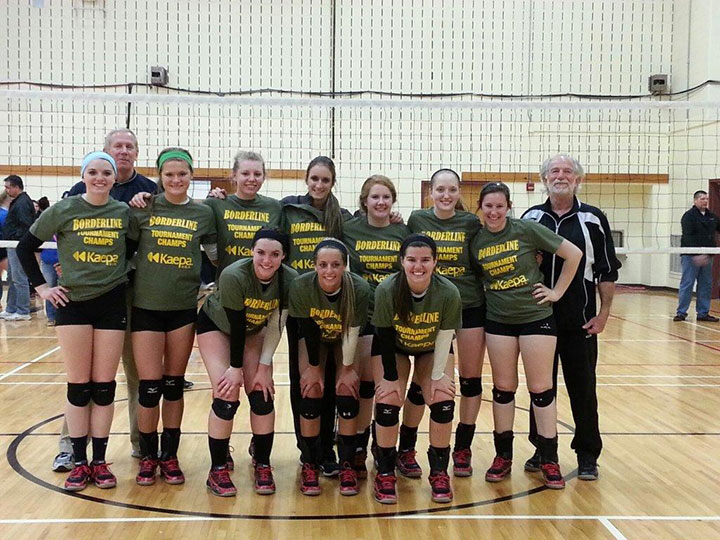 The 18 Hawks were coming off of a 4 week tournament layoff. We hadn't played since the Mideast Qualifier in Indianapolis, Indiana, the weekend of March 22. There were questions whether the team had adapted to being without Senior Middle Hitter Samantha Striebeck, out with a season ending knee injury. Would we be back to where we were at the Bluegrass Tournament in Louisville, KY, where we won the Silver Championship?
The team started on all cylinders in pool play, holding the first two opponents to less than 30 point in both matches. After taking the first set against the Northern Kentucky Aces 18-2 team, things weren't going too well. After winning 25-19, we were down to the Aces by a score of 17-12. Coach Tim Mersch called our last timeout to present the girls with a challenge — "Can we pull together and beat this team?" The girls responded in grand fashion, siding out every time NKJV earned a point and winning the set by a score of 25-21, to go undefeated in pool play.
Off to the playoffs we went. First team in the way was Star Brick VBC from southeastern Ohio. We started out a little flat. Star Brick jumped out to an early lead. We made some runs at them, but lost Set 1 22-25. We were back to form in Set 2 and won by a convincing 25-14 score. Set 3 was tight until the switch point, but we would prevail by a score of 15-9.
Next up was a very big, athletic Aleta Aces 18 Blue team from Athens, OH. Things looked bad in warm ups watching the Aces hit! Set one started out well, with Natalie Carley serving 6 points to put us up 10-4, but they came back to tie us at 19-19. We battled point for point from there, but finally succumbed 25-23. It appeared the second set would be our last. Our first five terms of service didn't net a point! We were looking at a deficit of 8-18, but then something happened! We narrowed the gap to
17-20 behind the serving of Holly Richardson and Carley, forcing the Aces to take their final timeout. It would be to no avail as Jess Wilgenbusch served the final 8 points with the help of great defense by Kaitlin Zehler and Fran Lindley, to completely demoralize Aleta. The third set was a complete blowout. We went up 8-1 at switch point with Chelsea Shanklin forcing shanked passes on her jump serve. Natalie Carley finished them off, serving the last 8 points with Kayla Mulvihill setting the ball outside to Wilgenbucsh and right side hitter Dana Lohrey for kills down the line around the big Aleta block.
Another formidable task lay ahead in the Champaign County Sharks 18s' team. They had finished their semifinal match against Kaepa Buckeye 18 Red long before we were done so they had lots of time to scout us (and rest!). Could we pull it off? We were tired and banged up. Our outside hitters hadn't had one break. The Sharks were much bigger than us and rested.
This would be a battle to the end! Both teams made great plays. Jane Heimkreiter, Holly Richardson, and Dana Lohrey came up with some great stuff blocks against some very good hitters. Both teams made great plays on defense. It was back and forth the entire match. The Sharks pulled out a win in the first set by a score of 21-25. We squeezed out a 27-25 win in the second set with Wilgenbusch crushing sets from Mulvihill down the line and Shanklin continually using the Sharks blockers' hands to score
points.. The third set was 8-7 at switch point. After a Sharks timeout at 11-14, Chelsea Shanklin served tough and took the Sharks out of system. Kayla Mulvihill set the ball out to the pin and Jess Wilgenbusch tooled the ball off of the block to win the match and the tournament. Great job girls!