Consistency Pays Off for 14 Attack!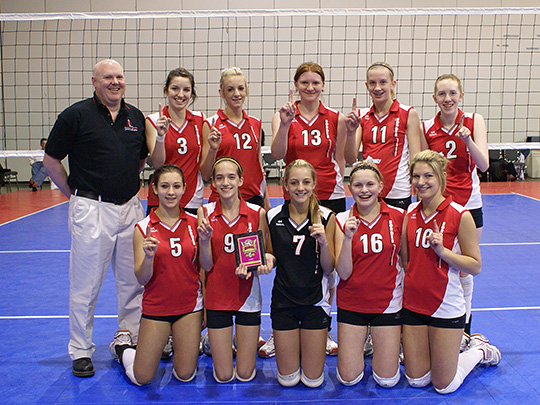 The 14 Attack team, coached by Jon Bennett, took 1st place in Silver on Sunday, March 30, at the 2008 Mid East Qualifier. Going into the tournament they were ranked the 15th seed out of 56 teams.
After Friday's pool play Attack was 2-1, defeating COVBC and Attack 14 Orange, but losing to Shank You Fury. Attack finished 2nd in their pool and kept the 15th seed.
On Saturday, Attack went 1-2, defeating Oiler Attack but losing to TVC 14 and TVC Mizuno. This placed Attack in the Silver bracket, once again as the 15th seed overall.
On Sunday, Attack defeated Wooster Elite in the Silver semifinals in 2 games. Attack went up against a tough Fox Cities team in the finals and came out victorious , defeating them in only 2 games.
When all was said and done, 14 Attack ended the weekend with a 5-3 record, finishing 1st in Silver and 15th overall in the 2008 Mid-East Qualifier. How much more consistent can you get?