Borderline Youth Clinic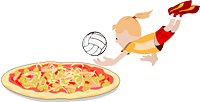 A Youth Volleyball Clinic for boys and girls in Grades 3-6 will be held on Saturday, December 10, 2016 from 9:00 AM-1:00 PM in Phillips Hall, Miami University. The guest clinician will be Miami University Assistant Coach Jesse Ortiz, assisted by the Miami Women's Volleyball Team. The cost for participation is $20, which includes pizza and beverages. Anyone attending needs the USA Volleyball Tryout Membership Insurance or full USAV membership. Pre-registration is strongly recommended.
Registration
Please complete the following forms prior to the clinic:
Please supply the following information if you will attend our Youth Clinic. Your name will be listed on this page, and the rest of your information will be accessible only to the Borderline director and coaches.
Registrants
The following young athletes have registered online so far: