15 Hawks Finished 1st in the 15 American Bronze bracket at the OVR Championships! (5/21/16)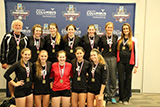 Borderline 15 Hawks finished first in the Bronze bracket of the 15 American division at the OVR 2016 Girls' Volleyball Championships! [tournament report]
13 Red Placed 3rd in the 13 Regional Nickel bracket at the OVR Championships! (5/21/16)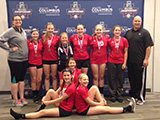 Borderline 13 Red placed third in the Nickel bracket of the 13 Regional division at the OVR 2016 Girls' Volleyball Championships! [tournament report]
17 Hawks Placed 2nd in the 17 American Copper bracket at the OVR Championships! (5/15/16)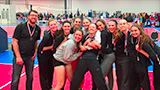 Borderline 17 Hawks placed second in the Copper bracket of the 17 American division at the OVR 2016 Girls' Volleyball Championships! [tournament report]
13 Hawks Placed 3rd in the 13 American Gold bracket at the OVR Championships! (5/14/16)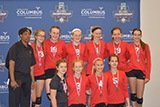 Borderline 13 Hawks placed third in the Gold bracket of the 13 American division at the OVR 2016 Girls' Volleyball Championships! [tournament report]
14 Hawks Placed 3rd in the 14 American Copper bracket at the OVR Championships! (5/1/16)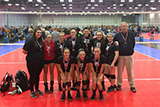 Borderline 14 Hawks placed third in the Copper bracket of the 14 American division at the OVR 2016 Girls' Volleyball Championships! [tournament report]
Talawanda Volleyball Camps 2016
Youth Camp (grades 5‑6), Middle School Camp (grades 7‑8), and Lil' Brave Camp (grades 3‑4)
Complete information and registration: Talawanda Volleyball Camp Flyer
Talawanda Volleyball Summer Youth Clinic 2016
Summer Sand Opportunity
Big Buls (not affiliated with Borderline) is putting together a youth sand volleyball league that will start the week of May 15 and will end the last week in July. Click here for further information.
14 Hawks Won the Indy USAV Challenge! (4/24/16)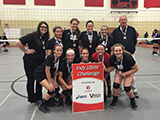 Borderline 14 Hawks won the Indy USAV Challenge at Indianapolis on April 23‑24, 2016! [tournament report]
14 Hawks Won the 14-and-Under Challenge at Miami! (4/17/16)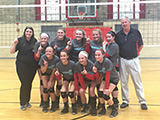 Borderline 14 Hawks won first place in Gold at the 14-and-Under Challenge at Miami University on April 16‑17, 2016! [tournament report]
15 Black Took Second at Positively Charged (3/12/16)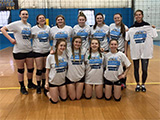 Borderline 15 Black won second place in Gold at Positively Charged Volleyball Club on March 12, 2016! [tournament report]
Miami Spring Tournament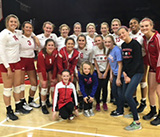 This is a picture of the Miami team with some of the girls that attend or helped retrieve balls for them on April 2.
Teams' Tournament Schedules
Our master tournament schedule is now available, including links to detailed tournament and site information. Teams' tournament schedules are also available on their respective pages.
Borderline Tournaments
Borderline's 2016 tournaments are now posted:
Ohio Valley Region Championships
The link to the age groups and divisions of the OVR Jr. Championships is here. We are forwarding this information for our members that are wanting to secure hotel accommodations for this event now. We realize that we haven't named all teams and their division of play yet. However, hotels will fill fast as teams are selected. Please try to secure rooms that are refundable without penalty if you secure them early. When teams are formed in our club, a designated person usually tries to secure a block of rooms for their team.
Coach Ruchelle Dunwoody named SWOC Volleyball Coach of the Year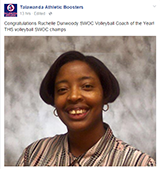 Congratulations, Ruchelle!
This season Coach Dunwoody is leading the Borderline 13 Hawks!
Borderline Athletes Still Competing
Congratulations to the following girls and their high school teams that are still in their state tournament:
Emily Hesselgesser (14 Hawks) is a freshman at Cincinnati Christian playing in the Division IV District Tournament
SR Allison Collins (17 Hawks) and FR Courtney Giffen (14 Hawks) are representing Eaton in the Division II District Tournament.
Seton Catholic in Richmond, IN is represented by Sophomores Rita Deitz, Sarah Dickman, and Abbey Schmidt and Junior Erin Barrett (16 Hawks) are in the Indiana Class A Semi-state Tournament.
Great job girls!! We are proud of you!
Borderline Handbook 2016

The Borderline Handbook details general information, fees and due dates, rules, grievance procedures, and much more... it's required reading for all Borderline athletes!
OVR 2015 Girls' Volleyball Championship Results
16 Hawks Won the 16 American Power Challenge at Sports Express! (4/18-19/15)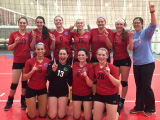 The 16 Hawks won the 16 American Power Challenge at Sports Express on Sunday, April 18‑19. [tournament report]
A Borderline Team Photo from the Miami Spring Tournament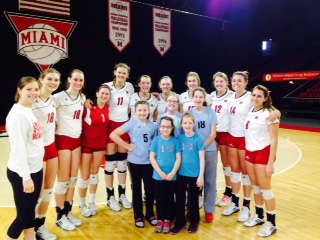 12 Twisters Won 1nd Place at Sports Express! (3/22/15)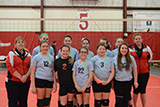 The Twisters took first place at Sports Express on Sunday, March 22, 2015. They placed first in pool play while not allowing any team to score over 12 points. The Twisters played tough in brackets, beating Lady Blue Knights and Elevation both in two sets. The team then went on play NKJVC for the Championship, winning in the third set with a score of 15‑4. Good job Twisters! [tournament report]
12 Twisters Won 2nd Place at Nothin' But Nets! (3/14/15)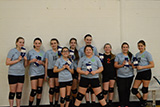 The Twisters won 2nd place at Nothin' But Net Tournament on Saturday, March 14, 2015. They placed second in pool play, losing to CVA. The Twisters came back in brackets, beating Cincy Classics and Cincy East, but again losing to CVA. [tournament report]
Miami University Parking Permit for Borderline
Miami University visitor parking permits must be displayed on dash on the driver's side. Please print a pass for each vehicle you may use to transport athletes to practice. Vehicles without passes will be ticketed by university police.
Elite Sports Training: Speed, Agility, and Quickness (SAQ)
The training program will focus on improving the athlete's speed, agility, and quickness while also working on vertical jump, strength, and balance. This program is highly recommended by coaches, for individual players looking to improve their all around game. One more benefit to being with Borderline!
Kaepa Borderline Junior Volleyball Youth Programs
Borderline Junior Volleyball offers competitive teams for 10s, 11s, and 12s. The teams are classified as girls' teams, but boys may participate on any of these teams. We would gladly have boys' teams in these age groups if there was enough interest. Our goal is to accept anyone that wishes to participate. Click here for complete information and to sign up!
Miami University Facility Rules
Fundraiser Advertising
Borderline offers advertising on its website as a fundraiser for Borderline athletes. Borderline athletes may solicit sponsors to cover some or all of their Borderline Fees (see the Borderline Handbook, "Borderline Fees"). For complete information and to submit your ads, see Advertising with Borderline.
Borderline Car Decal

The new Borderline car decal is available to our members for $7. To get yours, contact Kelly Zehler at zehlerkl@miamioh.edu.
2014 Season Highlights Archived
Our 2014 season highlights have been moved to the Borderline Archives.