May 16-17 Weekend
Here are the assignments for 13s and 15s on the final weekend of the OVR Championships. Remember that the Komen Race for the Cure will cause traffic issues in downtown Columbus on Saturday so leave early if you drive up the morning of the event. The tournament starts at 8:30. The doors open at 7am. Good luck girls!!!
date
team
division
bracket
pool
court
team
first
match
5/16
13 Blue
13R
Lead/Zinc
B
16
3
Play 1st match
5/16
13 Black
13R
Lead/Zinc
C
17
4
Off 1st match
5/16
13 Hawks
13A
Bronze/Copper
B
34
2
Ref First match
5/17
15 Hawks
15A
Aluminum/Chromium
B
57
2
Ref
5/15
17 Red
15R
Plutonium/Titanium
B
8
4
Off
Complete tournament information is available at the following links:
Beach Volleyball
We have received interest in starting beach volleyball through USA Volleyball. If there is enough interest in this, we might start some teams in our club. There is no additional registration fee involved if already a member of our program. Please contact Jenni Bolduc (Head coach of 16 Hawks) at jennifer.bolduc@borderlinevbc.org if you are interested.
16 Hawks Won the 16 American Power Challenge at Sports Express! (4/18-19/15)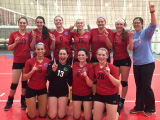 The 16 Hawks won the 16 American Power Challenge at Sports Express on Sunday, April 18‑19. [tournament report]
Practice Schedule
The practice schedule through April 30 is posted.
A Borderline Team Photo from the Miami Spring Tournament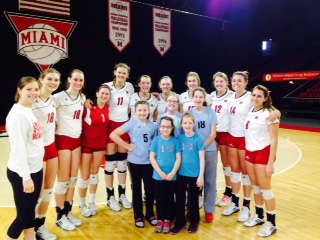 Summer Volleyball Camps
Miami RedHawks Volleyball Summer Camps
Dayton Volleyball Camps
Xavier Volleyball Camps
12 Twisters Won 1nd Place at Sports Express! (3/22/15)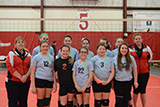 The Twisters took first place at Sports Express on Sunday, March 22, 2015. They placed first in pool play while not allowing any team to score over 12 points. The Twisters played tough in brackets, beating Lady Blue Knights and Elevation both in two sets. The team then went on play NKJVC for the Championship, winning in the third set with a score of 15‑4. Good job Twisters! [tournament report]
12 Twisters Won 2nd Place at Nothin' But Nets! (3/14/15)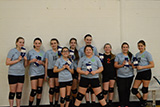 The Twisters won 2nd place at Nothin' But Net Tournament on Saturday, March 14, 2015. They placed second in pool play, losing to CVA. The Twisters came back in brackets, beating Cincy Classics and Cincy East, but again losing to CVA. [tournament report]
Inventory for Sale (3/13/15)
We now have an updated list of all items in our inventory through the following link. Please take a look and let us know if you are interested in anything. We now have 3 youth kneepads available.
Tournaments
Each venue has its own set of rules. Some permit outside food, others don't. Some events do not permit food in the gymnasium (MIAMI UNIVERSITY!!!). You may need to bring your own chairs. You may have to share your chairs with others so they can watch while your team is off. The start time varies from site to site. All of our Borderline events will start at 9 AM unless noted. Check with your coach to find out when they want you to be onsite.
All of the events our teams have entered are linked through the Borderline website. You can access the OVR website through our link if it says "OVR Tournament". Just left click with your mouse and the address and tournament information will appear. Formats and schedules will be listed here. Single day events will consist of one pool/phase of 4 teams playing a round robin. All teams will then go to playoffs. Two day events consist of two rounds of pool play and then playoffs. Information about the Bluegrass Tournament in Louisville, KY and the Mideast Qualifier in Indianapolis is linked as well.
Coolers are prohibited at all Ohio Valley Region events. You must leave them in your vehicle. The use of crock pots, grills, and other heating devises is also prohibited.
Please represent the club in a positive manner. Review the Borderline Handbook for proper procedures and policies. Cheer for your team, but be courteous and respectful of other participants and spectators. Give them a chance to correct the score when they make an error! ☺ Remember that everyone is supposed to stay until the last member of the team can leave.
Have fun!
Tournament Schedule
Our Master Tournament Schedule is now posted, including links to each tournament's pools, directions, rules, and other information. Team-specific schedules appear on each team's page.
Youth Teams
We are still accepting members for our Youth teams. We need several girls for the 12 Horned Frogs (6th grade), 11 Lizards (5th Grade), and 10 Armadillos (3rd and 4th grade). We can accept boys to these teams. We have had boys participate in the past. If you know anyone at school that still wants to participate, please have them contact us.
It's The Little Things That Matter…
Another year has come and gone, and it is now 2015. When you look back on the year that passed, what do you want to remember? We're reminded of the Borderline Mission Statement, which states:
"We, the Coaches, athletes, parents, and other members of the Kaepa Borderline Junior Volleyball Club want to share the mission of creating and supporting a program that has a profoundly positive effect on young athletes within the context of competitive volleyball: We believe our Club helps young athletes develop skills that will help them with life by teaching them to set difficult, but achievable, goals. We help our athletes achieve their goals by fostering in them and in ourselves a personal commitment to support each other and work as a team, which requires diligence, perseverance, and discipline."
We feel that if we hold to these principles that we will not be just a "borderline" program.
As we reminisce about 2014, we don't have to go back too far to find something that makes us feel good about our mission. We participated in the Miami University Holiday Project that provides gifts to foster children in Butler and Preble Counties. These kids wouldn't have had much of a Christmas if it wasn't for the generosity of the Miami community. In addition to a small cash donation from our club, Borderline staff, coaches, athletes, and parents assisted with the project: shopping for gifts, helping carry them into the wrapping stations one Saturday morning, and coming to practice early to help wrap the gifts. It's the little things that matter….
Most of you are aware of Lauren Hill (Lawrenceburg, IN), the basketball player from Mount St. Joseph University with pediatric brain cancer. The charity that she has championed, The Cure Starts Now, has raised over $1,000,000 to help cure this disease.


Our club has many alumnae that have gone on to attend Mount St. Joseph University to play volleyball. To show our solidarity to Lauren's cause, we are adding #22 (her uniform number) to two styles of T-shirts we are selling as Spirit wear this year. To donate, you will need to include an extra $5 for each shirt you order. We realize that many of you have already ordered. To add your donation to the cause, please contact Kymn Bennett to be part of this. Our goal is to raise $500 for this cause. Remember, it's the little things that matter!
Miami University Parking Permit for Borderline
Miami University visitor parking permits must be displayed on dash on the driver's side. Please print a pass for each vehicle you may use to transport athletes to practice. Vehicles without passes will be ticketed by university police.
Elite Sports Training: Speed, Agility, and Quickness (SAQ)
The training program will focus on improving the athlete's speed, agility, and quickness while also working on vertical jump, strength, and balance. This program is highly recommended by coaches, for individual players looking to improve their all around game. One more benefit to being with Borderline!
Borderline Handbook 2015

The Borderline Handbook details general information, fees and due dates, rules, grievance procedures, and much more... it's required reading for all Borderline athletes!
Kaepa Borderline Junior Volleyball Youth Programs
Borderline Junior Volleyball offers competitive teams for 10s, 11s, and 12s. The teams are classified as girls' teams, but boys may participate on any of these teams. We would gladly have boys' teams in these age groups if there was enough interest. Our goal is to accept anyone that wishes to participate. Click here for complete information and to sign up!
Miami University Facility Rules
Fundraiser Advertising
Borderline offers advertising on its website as a fundraiser for Borderline athletes. Borderline athletes may solicit sponsors to cover some or all of their Borderline Fees (see the Borderline Handbook, "Borderline Fees"). For complete information and to submit your ads, see Advertising with Borderline.
Borderline Car Decal

The new Borderline car decal is available to our members for $7. To get yours, contact Kymn Bennett at gear@borderlinevbc.org.
2014 Season Highlights Archived
Our 2014 season highlights have been moved to the Borderline Archives.
Borderline Academy: Take Your Game to the Next Level!

Develop your skills through any of the following excellent opportunities!
Skills Camp: Pre-tryout Skills and Conditioning I
July 26, 2015 4:00‑6:00 pm
Phillips Hall

We are hosting a 4 day camp before school tryouts. Session I is for athletes in grades 5-8. The schedule is: Sunday, July 26 4-6 PM Monday-Wednesday (July 27-28-29) 5-7 PM There will be one court each for girls entering grades 5 and 6, 7th grade, and 8th grade. Sessions will be conducted by Bill Zehler, 16 Hawks Coach Jenni Bolduc, and other members of the Borderline staff. The fee is $100.
Skills Camp: Pre-tryout Skills and Conditioning Camp II
July 26, 2015 6:00‑8:00 pm
Phillips Hall

We are hosting a 4 day camp before school tryouts. Session II is for athletes in grades 9-12. The schedule is: Sunday, July 26 6-8 PM Monday-Wednesday (July 27-28-29) 7-9 PM Courts wil be assigned based on experience/skill level. Sessions will be conducted by Bill Zehler, 16 Hawks Coach Jenni Bolduc, and other members of the Borderline staff. The fee is $100.
Because we need certain minimum numbers of athletes for each session, you responsible for attending and paying the fee if you sign up.