Youth Volleyball Clinic for 10-, 11-, and 12-and-Under Girls and Boys
Practice Schedule
The December practice schedule is posted. We are not practicing on Sunday, December 1, due to several coaches and athletes being away for Thanksgiving Break. We will have skills sessions if there is any interest. We are open to suggestions. There is also court time on Sunday, December 1, that is available for individual training.
Happy Thanksgiving!
Miami University Facility Rules
Miami University Parking Permit for Borderline
Miami University visitor parking permits must be displayed on dash on the driver's side. Please print a pass for each vehicle you may use to transport athletes to practice. Vehicles without passes will be ticketed by university police.
Cooper-etition
Cooper-etition: n, hybrid of the words cooperation and competition. What does it have to do with volleyball?? Why are we having a skills clinic on something we can't even spell and really isn't a word?
It is actually working on one of the most important phases of our sport: ball control. We will have cooperative drills and competitive drills. We will mix up the age groups for some drills and segregate by skill level and age for others. This session is for all ages. We have lots of court space. The first person brave enough to register is 9 years old!! Are you willing to try??? Jenni Hirneisen will be running this session. It is going to be lots of fun!!
Bits and Pieces
If you no longer want to be on our mailing list, it is up to you to unsubscribe.
We have had three very well attended skills sessions this week. There are two more scheduled next Monday and Tuesday.
The practice schedule is residual from last season. It is still visible so people can see what the schedules will look like. We will post the December schedule after the Acceptance Meetings. We have to look at conflicts for each team now that they are set. We actually may have a couple of positions to fill on some teams. Please let us know if you are still interested in a position if you are not playing somewhere else.
The Acceptance Meetings are scheduled for two hours, but the club portion is not going to last longer than an hour. There are several teams having Parent Meetings at the conclusion of the first part of the meeting. Add the 14 Hawks to that list. Other teams were announced earlier. All teams will review the athlete profiles so we can look at any conflicts for tournaments. Please bring your calendar with you!
Uniform sizing and paying the first installment of fees will also be competed. Remember to refer to the paperwork issued at tryouts or the Handbook for details on "What Happens After Tryouts"!
We will be announcing a new training opportunity for athletes that did not make a team or do not want the commitment of being on a team. There will be 10 sessions from February to March on Saturdays. We are also working on a camp for kids in grades 3-6 and one for 7th and 8th graders that do not play club. We hope these are an affordable alternative to playing on a team.
Former Borderline Players Receives College Accolades
| | | |
| --- | --- | --- |
| | | Three former members of Borderline earned Heartland Collegiate Athletic Conference postseason honors this week. Jessica Wilgenbusch was named to the All-Freshman team and was Freshman of the Year. Nicole Sherpensky and Hannah Vanarsdall, who is also Asst. Coach for the Borderline 18 Hawks, were named All-HCAC. Congratulations girls! |
Offers: 15s-18s
Here are the initial offers for participation with Borderline for the 2014 season. This is a long drawn out process. Please be patient as the process unfolds. We will update offers as soon as possible. There are three tabs at the bottom of the spreadsheet instead of 3 documents. A parent needs to contact us by e-mail to accept or decline our offer. We will be in touch!
Offers: 12 Twisters, 13s, and 14s
Offers are posted now for 12 Twisters, 13-and-Under, and 14-and-Under. If your name does not appear, please be patient. As athletes decline our offer, we will update offers. There are many factors that go into team selection. Some, like HSAA regulations (the "rule of 3"), are beyond our control. Please bear with us as this process unfolds.
Borderline "XX" T-shirts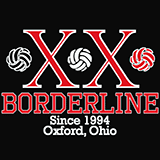 We have a great new t-shirt design for Borderline's 20th year! We'll start taking orders after tryouts.
Borderline Handbook 2014

The Borderline Handbook details general information, fees and due dates, rules, grievance procedures, and much more... it's required reading for all Borderline athletes!
Borderlines's 20th Season!
As we enter our 20th season as a club, we will have some exciting coaching announcements to share. Several new members of the Miami University Women's Volleyball coaching staff are included in our cadre of coaches. We are excited about the staff we have attracted for this season. We want our 20th season to be the best so far!
Miami RedHawks Volleyball
| | | |
| --- | --- | --- |
| | | Schedule |
Mailing List and our 2014 Season
We are making plans for the 2014 season at this time. We are celebrating our 20th anniversary as a club in the Ohio Valley Region of USA Volleyball. There will be a number of several messages sent in the next few days and through the season.
Fundraiser Advertising
Borderline offers advertising on its website as a fundraiser for Borderline athletes. Borderline athletes may solicit sponsors to cover some or all of their Borderline Fees (see the Borderline Handbook, "Borderline Fees"). For complete information and to submit your ads, see Advertising with Borderline.
Borderline Car Decal

The new Borderline car decal is available to our members for $7. To get yours, contact Kymn Bennett at gear@borderlinevbc.org.
2013 Season Highlights Archived
Our 2013 season highlights have been moved to the Borderline Archives.