Practice Schedule
The practice schedule through March 15 is posted. It isn't as "normal" as usual (if there is such a thing) because we lose TMS on Thursday, March 13. Some teams practice have moved to Saturday at PH. We will make it work!
Sunday is the start of Daylight Saving Time. Please remember to set your clocks one hour forward before you go to bed Saturday night!
Cabin Fever
There have been some inquiries about members of our club attending the "Cabin Fever" sessions. Full members of the club can register for any of the 2 hour sessions of Cabin Fever. The remaining schedule is:
Saturday, March 8
Saturday, March 15
Each two-hour session is from 1-3 PM. The fee for our team members is $20 (half price). We are also going to invite some of our teams to participate in the 3 hour sessions on March 22 and March 29.
Coach Clair Green and her staff will instruct on a variety of skills each session. The last two sessions will be games and competition. Members of our teams may use one of these sessions as their practice on that day. There is no need to sign up for these two sessions.
Tournament Schedule
Our Master Tournament Schedule is now posted, including links to each tournament's pools, directions, rules, and other information. Team-specific schedules appear on each team's page.
14 Red Won Gold in Silver at Sinclair Community College! (2/8/14)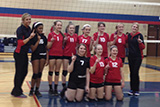 14 Red Won Gold in Silver at Sinclair Community College on February 23! [tournament report]
NKJV Aces Challenge
The sites for the NKJV Aces Challenge on April 26‑27, hosted by the Pioneer Region of USA Volleyball, are as follows:
| team(s) | site(s) |
| --- | --- |
| 18s | Northern KY University Highland Heights, KY |
| 17s | Next level Academy Wilder, KY |
| 16s | College of Mount St Joe & Western Sports Mall (WSM) Cincinnati, OH |
| 15s | GE Park & Sports Plus Cincinnati, OH |
| 14s | Sports Plus Evendale, OH |
| 13s | Sports Express, Mason , OH |
| 12s | Campbell Co Middle School & Brossart HS (these locations are about 300 yds apart) |
| 11s | Sports Plus Evendale, OH |
Youth Team Score Keepers
Attention Borderline teams. The following link is to the USA Volleyball Junior Officiating Training Program. Go to https://www.volleyballreftraining.com/training_materials_junior.php.
They go to the website.
Click junior ref training
Sign-up for credit
Log into USAV Academy with your Webpoint account info to view the course.
Please try to look at this before the clinic Saturday.
If you were at the clinic for the older teams and want to get credit for this course, please feel free to do so. The system was not operating when we had our clinic for our older teams.
Space for More Athletes
We can still accept more athletes to the following teams:
| team | openings |
| --- | --- |
| 10 Armadillos | 1 |
| 11 Lizards | 1 |
| 13 Black | 3 |
| 16 Red | Setter |
Please let us know if you are aware of someone that had decided they want to play. We would love to have teams finalized by pictures on Sunday!
Borderline "XX" T-shirts
We are taking orders for the "XX" 20th Anniversary Borderline T-shirts. Please contact Kymn Bennett (gear@borderlinevbc.org) or stop in the room across from the gym at Phillips Hall this weekend or next to order yours. The prices are:

Short sleeve $15; 2XL (and larger) $17
Long sleeve $20; 2XL (and larger) $22
Kaepa Borderline 'Cabin Fever' Training Program
Cabin fever is the term for a claustrophobic reaction that takes place when a person or group is isolated and/or shut in a small space, with nothing to do for an extended period. Cabin fever describes the extreme irritability and restlessness a person may feel in these situations.
A person may experience cabin fever in a situation such as being stuck at home in the winter. When experiencing cabin fever, a young athlete may tend to sleep more, be grumpy with their parents and siblings, and sit around playing video games, texting, or talking on their cell phone.
One therapy for cabin fever may be as simple as getting out and learning the sport of volleyball. Research has proven that practicing volleyball can promote improved cognitive functioning and overall well-being. Did we mention getting better at the sport too?
Click here for complete information, and sign up with the links to the right!
Borderline Tournaments
Our 2014 tournaments are now on our website:
Please read our Tournament Rules and Tournament "Do"s and "Don't"s!
Webpoint Registration
We are building our team rosters on the Ohio Valley Region website. We have discovered that many of our members did not choose "Kaepa Borderline" as their club. Until that step is completed, we are not able to add you to our roster. Please check your Webpoint account to make sure this was done. Once you have completed this step, please contact Bill Zehler (zehler@borderlinevbc.org) so we can add you to the roster. This includes some coaches!
Miami University Facility Rules
Miami University Parking Permit for Borderline
Miami University visitor parking permits must be displayed on dash on the driver's side. Please print a pass for each vehicle you may use to transport athletes to practice. Vehicles without passes will be ticketed by university police.
Cooper-etition
Cooper-etition: n, hybrid of the words cooperation and competition. What does it have to do with volleyball?? Why are we having a skills clinic on something we can't even spell and really isn't a word?
It is actually working on one of the most important phases of our sport: ball control. We will have cooperative drills and competitive drills. We will mix up the age groups for some drills and segregate by skill level and age for others. This session is for all ages. We have lots of court space. The first person brave enough to register is 9 years old!! Are you willing to try??? Jenni Hirneisen will be running this session. It is going to be lots of fun!!
Former Borderline Players Receives College Accolades
| | | |
| --- | --- | --- |
| | | Three former members of Borderline earned Heartland Collegiate Athletic Conference postseason honors this week. Jessica Wilgenbusch was named to the All-Freshman team and was Freshman of the Year. Nicole Sherpensky and Hannah Vanarsdall, who is also Asst. Coach for the Borderline 18 Hawks, were named All-HCAC. Congratulations girls! |
Borderline Handbook 2014

The Borderline Handbook details general information, fees and due dates, rules, grievance procedures, and much more... it's required reading for all Borderline athletes!
Borderlines's 20th Season!
As we enter our 20th season as a club, we will have some exciting coaching announcements to share. Several new members of the Miami University Women's Volleyball coaching staff are included in our cadre of coaches. We are excited about the staff we have attracted for this season. We want our 20th season to be the best so far!
Mailing List and our 2014 Season
We are making plans for the 2014 season at this time. We are celebrating our 20th anniversary as a club in the Ohio Valley Region of USA Volleyball. There will be a number of several messages sent in the next few days and through the season.
Fundraiser Advertising
Borderline offers advertising on its website as a fundraiser for Borderline athletes. Borderline athletes may solicit sponsors to cover some or all of their Borderline Fees (see the Borderline Handbook, "Borderline Fees"). For complete information and to submit your ads, see Advertising with Borderline.
Borderline Car Decal

The new Borderline car decal is available to our members for $7. To get yours, contact Kymn Bennett at gear@borderlinevbc.org.
2013 Season Highlights Archived
Our 2013 season highlights have been moved to the Borderline Archives.
Borderline Academy: Take Your Game to the Next Level!
Develop your skills through any of the following excellent opportunities!
Kaepa Borderline
March 15, 2014 1:00‑3:00 pm
Phillips Hall
Click for details
Kaepa Borderline
March 15, 2014 1:00‑3:00 pm
Phillips Hall
Click for details
Kaepa Borderline
March 22, 2014 1:00‑4:00 pm
Phillips Hall
Click for details
Kaepa Borderline
March 22, 2014 1:00‑4:00 pm
Phillips Hall
Click for details
Kaepa Borderline
March 29, 2014 1:00‑4:00 pm
Phillips Hall
Click for details
Kaepa Borderline
March 29, 2014 1:00‑4:00 pm
Phillips Hall
Click for details
Because we need certain minimum numbers of athletes for each session, you responsible for attending and paying the fee if you sign up.