Practice Schedule
The proposed practice schedule is posted. If there are any changes, they will be highlighted in yellow.
Skills Sessions and SAQ
We will start skills sessions and Speed, Agility, Quickness (SAQ) on Monday, November 24 and Tuesday, November 25, from 6-8 PM. These sessions will include 45 minutes to an hour of SAQ and the remainder of the time will focus on a skill. The cost is $20/session. Sign up will be available at borderlinevbc.org/signup.php. You should see the sessions by Saturday, November 22.
Anyone that has completed their full membership with USA Volleyball and declared Kaepa Borderline as their club may sign up and attend. You must also register on the website. This includes anyone that is participating in our Youth programs. If you register for a session, you are responsible for the fee. Make sure you can attend before you register for a session.
Borderline Acceptance Meeting
This is a reminder about the Acceptance Meeting we are hosting at Phillips Hall on the Miami University Oxford Campus on Sunday, November 23, 2014. Please refer to the message you received when we confirmed your acceptance of our offer to participate or the Borderline Handbook for times at http://www.borderlinevbc.org/handbook/Borderline_Handbook.pdf. Every athlete must be represented.
Each age group will have a conference in Room 116 Phillips Hall. This meeting shouldn't take the full 2 hours scheduled. We would prefer that you attend the meeting for your age group, but it is acceptable to attend another section (more than one member from the same family, etc.). Some of the coaching staff will be in attendance. Those coaches will meet their teams that day. Some may even have their Player/Parent Meeting. If they will, it will be announced on info prior to Sunday. We will also do sizing for uniforms and apparel and accept the first installment of fees.
We will use the classroom across form the gym at Phillips Hall for sizing from 10 am to 6 pm. We have samples of uniforms and shoes, as well as other optional apparel. We will have Kaepa socks and kneepads, as well as other assorted apparel for purchase. Examples of our Spirit wear for this season will be displayed.
Contracts will be signed and the first installment of fees will be submitted. We will have information on parking passes also. The practice schedule for the month of December will be available. We should be able to distribute what we have so far for proposed tournament schedules as well.
Anyone that has signed up for membership in our Youth Volleyball program is welcome to be sized for their uniform that day. There will be other opportunities before we start practices for this group in January. This includes all members of the 12 Twisters (already scheduled from 11 am -1 pm)). We will do sizing from 10 am-6 pm. You are not required to attend this Acceptance Meeting.
See you on Sunday!
Openings
Know someone that didn't make it to our tryouts? We may be able to find a team for them to play on. Please have them contact Bill Zehler at zehler@borderlinevbc.org.
Offers
Offers are posted now for 12s-17s. If your name does not appear, please be patient. As athletes decline our offer, we will update offers. There are many factors that go into team selection. Some, like HSAA regulations (the "rule of 3"), are beyond our control. Please bear with us as this process unfolds.
The acceptance deadline for tryouts hosted from October 24 through November 3, 2014 is November 5, 2014 at 9 pm.
The acceptance deadline for tryouts hosted from November 9‑18, 2014 is November 19, 2014 at 9 pm.
If you accept our offer, please have a parent send an e-mail response to zehler@borderlinevbc.org. To complete your USA Volleyball registration, go to your account, pay the total fee due, and declare "Kaepa Borderline" as your club. Everyone is welcome to register for skills sessions as they are available if they are full members. We will start hosting skills sessions after tryouts for 15s-18s have been hosted.
Elite Sports Training: Speed, Agility, and Quickness (SAQ)
The training program will focus on improving the athlete's speed, agility, and quickness while also working on vertical jump, strength, and balance. This program is highly recommended by coaches, for individual players looking to improve their all around game. One more benefit to being with Borderline!
Miami Red Hawks

Please consider attending the Miami Volleyball match against Bowling Green this Thursday, November 6 at 7 PM. The match is in Millett Hall. Borderline is hosting an information meeting about club volleyball (and Borderline) in Room 246. It is also "Borderline Night". Mention "Borderline" at the ticket office and you will receive the $1.00 reduced admission rate. Get there early to sign up for the promotions between sets and some lucky girls will be selected to be on the "Hit Squad" during introductions before the match. Miami's 4 Seniors will be participating in their last home match of the season. Go Red Hawks!
Borderline Handbook 2015

The Borderline Handbook details general information, fees and due dates, rules, grievance procedures, and much more... it's required reading for all Borderline athletes!
Kaepa Borderline Junior Volleyball Youth Programs
Borderline Junior Volleyball offers competitive teams for 10s, 11s, and 12s. The teams are classified as girls' teams, but boys may participate on any of these teams. We would gladly have boys' teams in these age groups if there was enough interest. Our goal is to accept anyone that wishes to participate. Click here for complete information and to sign up!
Youth Volleyball Clinic for 10-, 11-, and 12-and-Under Girls and Boys
16 Hawks Were Runners-Up in Gold at the NKJV Aces Challenge!! (4/27/14)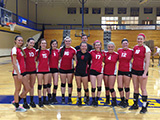 The Borderline 16 Hawks were runners-up in the Gold division of the NKJV Aces Challenge! [tournament report]
16 Hawks Won 2nd in 17-and-Under at Phillips Hall! (4/13/14)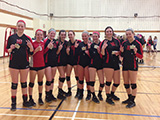 Borderline 16 Hawks played up an age group and took second in 17-and-Under at Phillips Hall on April 13! [tournament report]
15 Red placed 3rd in Gold at the Troy Spring Fling! (3/16/14)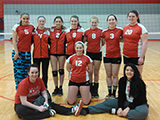 15 Red placed 3rd at the Troy Spring Fling Volleyball Tournament on Sunday, March 16th. It was a long day as the most matches went to 3 games. Great teamwork ladies! The team returns to action on Saturday March 29th at Courts 4 Sports in Mason. [tournament report]
12 Twisters Won 2nd Place at Nothin' But Nets! (3/8/14)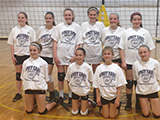 Borderline 12 Twisters finished second in the Nothin' But Nets tournament on March 8! [tournament report]
Work Team Kudos!
Congratulations to 15 Red! Not only did they finish 3rd in their tournament at Troy High School, they were an outstanding support officiating crew! Great job girls, Whitney, and Julie. This is why we put such an emphasis on being great officials. Great job!
17 Red Won Second Gold at Kingdom Sports (3/9/14)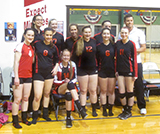 17 Red placed 2nd at Kingdom Sports in Franklin, Ohio on March 9. The team ranked 4th going into pool play and only lost to one team all day. The team's competitive attitude, stellar zone serving, and ability to adapt to different defenses throughout the day propelled them into the championship match. Congrats, ladies! [tournament report]
13 Hawks Won 2nd in Gold at Huber Heights! (3/1/14)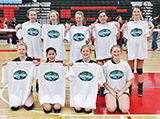 It was long but rewarding day as the 13 Hawks went 5-1, not losing a match until the finals. The Hawks lost to great Decatur Force team in the finals 15-25; 17-25. The Hawks will return to action on Sunday, March 9th. Good luck! [tournament report]
14 Red Won Gold in Silver at Sinclair Community College! (2/8/14)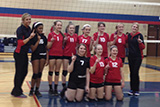 14 Red Won Gold in Silver at Sinclair Community College on February 23! [tournament report]
Borderline "XX" T-shirts
We are taking orders for the "XX" 20th Anniversary Borderline T-shirts. Please contact Kymn Bennett (gear@borderlinevbc.org) or stop in the room across from the gym at Phillips Hall this weekend or next to order yours. The prices are:

Short sleeve $15; 2XL (and larger) $17
Long sleeve $20; 2XL (and larger) $22
Miami University Facility Rules
Miami University Parking Permit for Borderline
Miami University visitor parking permits must be displayed on dash on the driver's side. Please print a pass for each vehicle you may use to transport athletes to practice. Vehicles without passes will be ticketed by university police.
Former Borderline Players Receives College Accolades
| | | |
| --- | --- | --- |
| | | Three former members of Borderline earned Heartland Collegiate Athletic Conference postseason honors this week. Jessica Wilgenbusch was named to the All-Freshman team and was Freshman of the Year. Nicole Sherpensky and Hannah Vanarsdall, who is also Asst. Coach for the Borderline 18 Hawks, were named All-HCAC. Congratulations girls! |
Borderlines's 20th Season!
As we enter our 20th season as a club, we will have some exciting coaching announcements to share. Several new members of the Miami University Women's Volleyball coaching staff are included in our cadre of coaches. We are excited about the staff we have attracted for this season. We want our 20th season to be the best so far!
Mailing List and our 2014 Season
We are making plans for the 2014 season at this time. We are celebrating our 20th anniversary as a club in the Ohio Valley Region of USA Volleyball. There will be a number of several messages sent in the next few days and through the season.
Fundraiser Advertising
Borderline offers advertising on its website as a fundraiser for Borderline athletes. Borderline athletes may solicit sponsors to cover some or all of their Borderline Fees (see the Borderline Handbook, "Borderline Fees"). For complete information and to submit your ads, see Advertising with Borderline.
Borderline Car Decal

The new Borderline car decal is available to our members for $7. To get yours, contact Kymn Bennett at gear@borderlinevbc.org.
2013 Season Highlights Archived
Our 2013 season highlights have been moved to the Borderline Archives.