Defense and Passing Make the Difference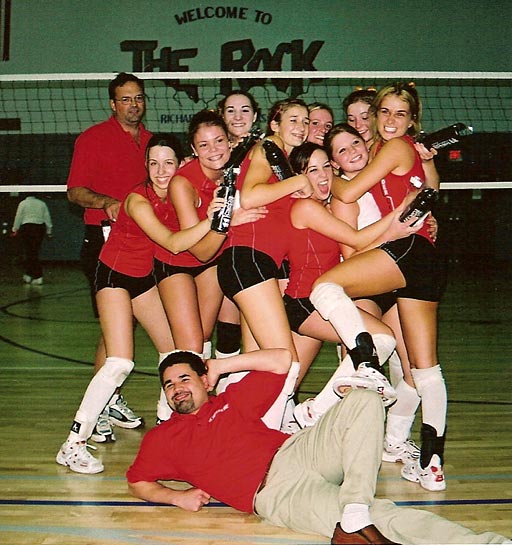 The 16 Hawks played comfortable and steady as they won another 16 Open tournament. Throughout pool play the Hawks' offense was a juggernaut, pounding the ball all over the court. Jessi Whitley's and Kat Howard's hits sounded like howitzers going off all afternoon. Jessi Grimes looked really comfortable in her new position on the outside, moving the ball inside, outside, and through the block. Ashley Savage and Tara Wentzell were steady all day and there blocking, touching ball after ball and moving the ball off solid sets. Karyn Powell's sets were effortless, as she could have put a chair on the court and waited for the ball to arrive.
The unsung heroes who don't get nearly enough credit for the 16 Hawks are the passing and defensive machines that flow through the backcourt. Savanah Bertsch, Julie Gunther, and Sam Baeten are those heroes. Time and time again they just make plays happen and make this team go. Their passing is always solid and crisp, and they just dig. As I reviewed the stats from the tournament, I'm in awe of the job they do. 3 out of 5 matches without a passing error in this region is simply outstanding. But more importantly, the control of their ball handling off digs is equally solid. It allows Karyn to run whatever offense plays she wants.
The Hawks were down 1-6 in game 3 of the finals to a surging SW Ohio Thunderbirds, who were covering the floor well and really playing solid. But time and time again you could see Savanah, Julie, and Sam cleaning up the floor, allowing the offense to make things happen at the net and bringing the Hawks back for a 15-12 victory. So the next time you see your setter get the ball to the big gun and she pounds it through the floorboard, don't forget how that ball got there. I sure don't.