16 White Tigers Open 2007 With a Roar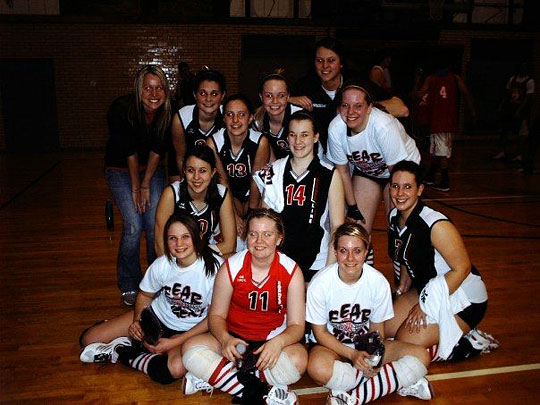 The Borderline 16 White "Tigers" opened their 2007 season with a roar as they captured first place gold in each of their first two tournaments. The Tigers traveled to Huber Heights on February 25 to begin the season. They quickly established themselves by winning all three matches in pool play as they lost only one game in the morning. The Tigers began tournament play as the number one seed in the Gold bracket and continued their strong team performance by winning their semifinal match against Matchpoint MEVC 16s in three closely contested games. The final match of the day was a rematch against Western Ohio VBC- 16 Blue. Western Ohio had handed the Tigers their only defeat in pool play but were not up to the strong play of the 16 White in the afternoon session as the Tigers prevailed in two games to close the day as the overall Gold bracket winners!
The Tigers were even more dominant in their second tournament March 4 at Withrow Court. As the host team in the 12 team field some might say that the 16 White were not very hospitable as they swept thru pool play without losing a game in their three matches to enter tournament play as the number one seed for the second week in a row. The team continued their outstanding play as they scored impressive wins in their first two matches of Gold Bracket play without a loss. The 16 White then took on a very good Dayton Jrs team in the finals and again prevailed as they won the match in two games to close the tournament as the Gold champions for the second week in a row. The Tigers played six matches on the day and won all without losing a single game!
Coach Kara Kohlenberg has all players contributing to the early season success and has done a great job of blending the players' talents so that all the girls contribute to the wins.
"Fear the Tiger"!