18 Hawks Take Silver Title at Bluegrass (3/10/13)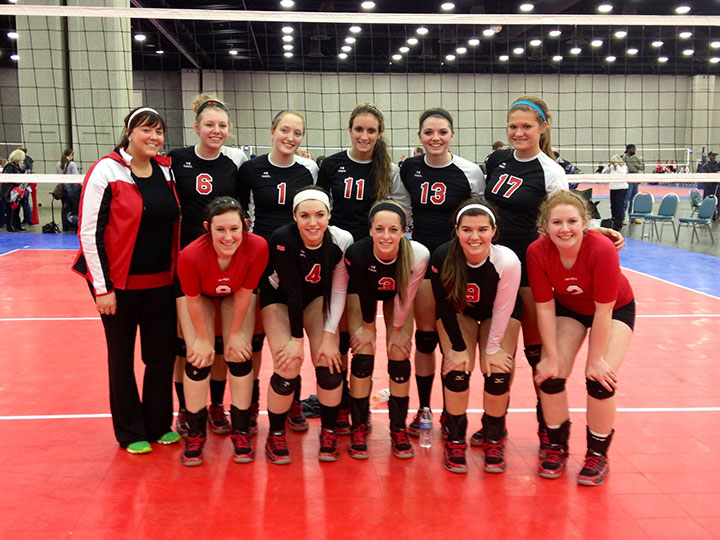 The 18 Hawks were not going to be denied at the Bluegrass Tournament in Louisville, KY on March 9-10. Having narrowly missed in the championship match at their 2 previous events, they had something to prove. The Kentucky Exposition Center was the right place to make amends.
The Hawks, playing in the 18 Club division, started out in Pool 1 against Indiana Volleyball Academy Avalanche. The Hawks jumped out to an early lead, weathered a brief run by their opponent s, and won Set 1 by a score of 25-23. Set 2 was a different story, with the Hawks jumping to an early lead and didn't look back, winning 25-12. The opponent in the second match, Memphis Metro 18 National Black, didn't know what hit them. The Hawks held them to 10 total points on the way to a 25-4, 25-6 rout.
The second pool was a bit tougher. The Hawks faced a very tough NKYVC 18 Tide team from northern Kentucky. We fought back and forth through both sets, neither team being able to get a big lead. We lost a tough first set by a 24-26 score; then lost Set 2 by 3 points 22-25. That put us in a must win situation against Columbus Volleyball Academy 18 Red. We knew they would be tough, having just lost to NKYVC in 3 sets. Win and still have a chance to be in Gold: lose and go to Bronze. We totally shut them down in every phase of the game by scores of 25-9, 25-12.
Sunday morning brought daylight savings time and an 8 am EDT date with Munciana 18 Phoenix. Win you go to Gold, lose and you are in Silver. This match turned into a battle to the very end. The Hawks fought to a close 26-24 advantage in Set 1. We were on the verge of taking the second set and had several match point serves, only to lose 28-30. The third set was close until the switch point, and we lost 15-9. It seemed like everything we did, they were able to get the ball up.
We went to the Silver Championship looking for vindication. It would take 3 matches to win the bracket. We took care of Northern Kentucky Junior Volleyball and Columbus Volleyball Academy 18 Navy in straight sets, holding the opponent to fewer than 20 points in every set except one. We went into the finals against a very tall, athletic and hard hitting Carolina United 18s team. Watching them warm up, it looked like we had met our match.
We weren't fazed in the least. We came out in the first set and served them off the court to the tune of 25-13. They came back and beat us 21-25, setting up the third set. As the set started, more and more of their club members crowded around the court. They were cheering, doing the wave, making lots of noise. We were on the other side until we switched with us up 8-6. It got really loud when we went to "their side"! Lots of people started watching, including several college coaches. They caught up to us at 11-11. We called time out and told the girls they needed to be "tired of being brides' maids" and play aggressive volleyball to win the match. We pulled it out 15-12.
It was a total team effort from our girls. We used all 10 athletes, with everyone making strong contributions every match. Our confidence was high. We played like we were on a mission. We were not going to be denied this time!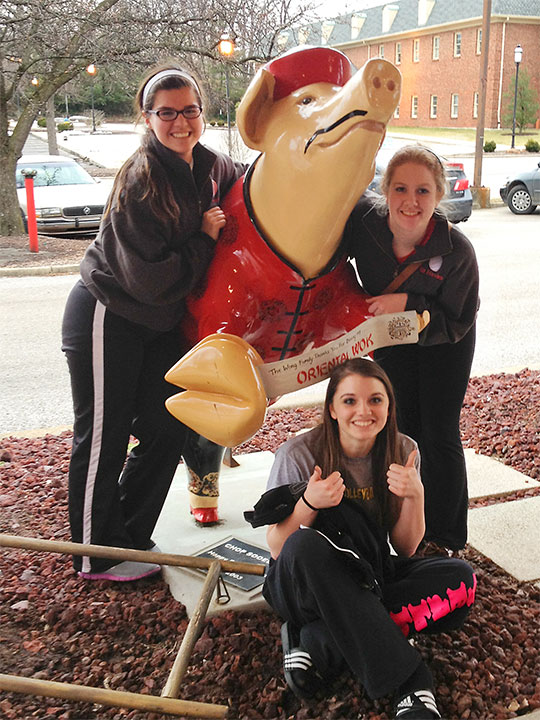 Victorious members of the 18 Hawks at the Oriental Wok in Crescent Spring, Kentucky, after the tournament. Natalie Carley is on the left, Kaitlin Zehler on the right, and Holly Richardson is seated.