Borderline Highlights: 2005-2006 Season
Michele Rosen (Borderline 2006) Sets Record at Bluffton
Michele Rosen (Borderline 2006) set the record for the most kills (270) by a freshman at Bluffton. [full list]
Holly Morgan (Borderline 2003) Sets NCAA Records
| | | |
| --- | --- | --- |
| | | Now playing at Tiffin University, Holly Morgan has led Division II in total digs the last two years. Now entering her senior season, she has compiled 2,400 digs and holds records for digs with 30-point scoring format and unlimited Libero substitutions with 883 in 2004 and 895 in 2005. [NCAA Div II Record Book; page 43.] |
All Nine 2006 Borderline Seniors Won College Scholarships
| | | | | | |
| --- | --- | --- | --- | --- | --- |
| | Tara Denham | | Clair Green | | Sara Heider |
| | Sarah Grimme | | Kylie Pate | | Anna Richter |
| | Michele Rosen | | Amanda Weaver | | Katlyn Williams |
Three Members of Last Season's 18 Hawks Team Accept Division I Offers
| | | |
| --- | --- | --- |
| Jamie Grauvogel | Michele Metzler | Karyn Powell |
Three members of our 18 Hawks team have accepted offers to continue their careers next season with Division I collegiate programs. Senior outside hitter Jamie Grauvogel from Harrison (OH) High School will attend Northeastern University in Boston, MA. Middle hitter Michele Metzler from Lawrenceburg (IN) will be staying in town, accepting an offer from Miami University. Setter Karyn Powell from East Central (IN) High School will be serving our country after leading the US Military Academy at West Point.
After sending 9 graduates to collegiate programs last season, Borderline has already started providing intercollegiate opportunities for the Class of 2007. Other members of 18 Hawks and 17 Red have offers that we will be able to announce throughout next season. These 3 Division I signings will double our alumni at that level. There may even be more Division I offers before the season ends. We have several athletes with offers from Division II and Division III schools looking to sign them. The Class of 2008 is also being heavily recruited. Keep up the hard work!
16 Armadillos Take Second in Silver (29 Apr 06)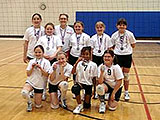 The 10 Armadillos took second place in the Silver bracket at Central Crossing High School on April 29. [tournament report]
16 Black Lightning Strikes Its Second Gold (29 Apr 06)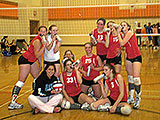 Black Lightning capitalized on their #1 seed... Lightning, quarterbacked by Bridget Mears running the 5-1 with speed and precision, was determined not to lose in pool play... Carrie Cramer, Morgan Bonney and Heidi Schlichter turned digs into good passes as Bridget set Lexi Thornton, Jackie O'Meara, Lauren Hutten and Angela "Stu" Steuer for kill after kill... [tournament report]
15 White Krush Wins Silver at Middletown (29 Apr 06)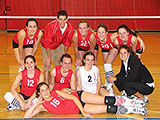 Borderline 15 White Krush won the Silver division at the April 29 tournament in Middletown. The team rebounded from close losses in pool play and very convincingly defeated every team in tournament play. [tournament report]
Borderline Players Selected to USA National HP Camps
The following Borderline athletes were selected to the USA National High Performance Development Camps:
| | |
| --- | --- |
| Kara Crabill | 14 Hawks |
| Michele Metzler | 18 Hawks |
| Karyn Powell | 18 Hawks |
Congratulations, girls!
18 Hawks Make Club History at Northern Lights (30 Apr 06)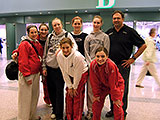 For the first time in Borderline history, a team has a top 5 finish at a National Qualifier. Not only that, it's also the first time a Borderline team has back-to-back top-10 finishes at national qualifiers. ... [tournament report]
Amanda Weaver Signs with Elmira College
Amanda Weaver (Borderline 18 Red) signed with Elmira College in Elmira, New York, on April 12, 2006. [full story]
14 Red Bombers Finally Grab the Gold (22 Apr 06)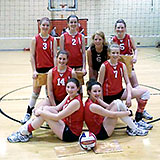 After finishing in the top 3 in most of their tournaments, this weekend (April 22) the 14 Red Bombers were able to push through to take gold at Withrow Court... A very exciting, emotional match the Bombers took the Loveland to 3 games, defeating the Sharks 15-13 in the deciding game... [tournament report]
Borderline 18 Hawks Win Big in Oxford! (23 Apr 06)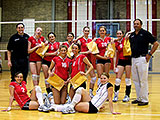 Exciting wins over Cincy Classics, Team Z, and Team Atlantis give the Hawks a first place finish in their hometown! "It is great to see this team so focused on improving this late in the season," Coach Shweisky commented. ... [tournament report]
Borderline 16 Hawks Earn a Bid to Nationals! (9 Apr 06)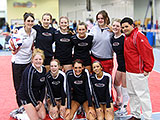 The 16 Hawks have earned an American level bid to the Girls' Junior National Championships... The Hawks picked up the intensity and began showing intimidating blocking, hitting, and tremendous defensive efforts... [tournament report]
18 Hawks Get the Bid! (9 Apr 06)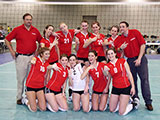 18 Hawks qualified for an American Bid at the Ohio Valley Region-Molten® 2006 National Bid Qualifier on April 8-9 at the Greater Columbus Convention Center. "I'm very proud of the way the girls stayed focused throughout the entire tournament. That high level of focus coupled with a powerful sense of team unity made this weekend an exciting and exhilarating experience for all those involved"... [tournament report]
14 White Win Gold for the Second Time (9 Apr 06)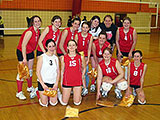 14 White won gold for the second time this season... they moved on to defeat the number 2 team in the OVR for the championship, proving that hard work and determination does pay off. [tournament report]