Borderline Highlights: 2006-2007 Season
Borderline 15 Hawks 5th in Gold, National Division, at the USA Junior Olympic Volleyball Championships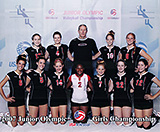 Coach Tim Mersch and the 15 Hawks showed up in Minneapolis, Minnesota, for the 2007 USA Junior Olympic Girls' Volleyball Championships on July 1, 2007, ready to battle for their place in JO history. With a great start on days 1 and 2 of pool play, the Hawks placed second to be seated second on the third day of pool play for Gold... [tournament report]
See also: [PrepVolleyball.com: 15 National: One Day Later, New Heroes Emerge; 18 Open and American: Just Beginning]
OVR-Kaepa

®

USA 2007 Girls' Volleyball Championships
Borderline photos from the OVR Girls' Championships are online now! Results for Borderline in this year's OVR Girls' Championships are as follows. Complete results are posted on the OVR website [ 10s, 12s, May 5, May 6, May 12, May 13 ]
| | |
| --- | --- |
| 10 Preble Peppers Petite | 5th place, 10 Gold |
| 12 Preble 12-1 | 5th place, 12 Copper |
| 12 Twisters | 5th place, 12 Nickel |
| Middletown 12 Purple | Silver medal, 12 Chromium |
| 12 Horned Frogs | 5th place, 12 Chromium |
| 12 Preble 12-2 | 5th place, 12 Kryptonite |
| 11 Lizards | 5th place, 12 Lead |
| Middletown 13 Purple | 5th place, 13 Copper |
| 13 Red | Bronze medal, 13 Chromium |
| 13 White | 5th place, 13 Tungsten |
| 14 Hawks | 5th place, 14N Silver |
| 14 Red | 5th place, 14R Platinum |
| 14 White | Bronze medal, 14R Titanium |
| Preble Rebels | 5th place, 14R Lead |
| 14 Preble Pink | 5th place, 14R Tin |
| 14 Black | 5th place, 14R Tungsten |
| 15 Hawks | 5th place, 15N Silver |
| 15 Attack | Bronze medal, 15N Nickel |
| 15 White | Silver medal, 15R Bronze |
| 15 Red | Bronze medal, 15R Bronze |
| 15 Black | Bronze medal, 15R Kryptonite |
| Middletown 15 White | Gold medal, 15R Tungsten |
| Middletown 15 Purple | Bronze medal, 15R Tungsten |
| 16 Hawks | Silver medal, 16N Silver |
| 16 Red | Bronze medal, 16N Copper |
| 16 White | Silver medal, 16R Silver |
| 17 Hawks | Gold medal, 17N Copper |
| 17 White | 5th place, 17R Bronze |
| 17 Red | Silver medal, 17R Platinum |
| Middletown 17 White | Silver medal, 17R Kryptonite |
| Middletown 17 Purple | 5th place, 17R Kryptonite |
| 18 Hawks | Bronze medal, 18N Silver |
| 18 Red | Silver medal, 18R Copper |






(10 Amazing Armadillos and 10 Starlite did not compete in the OVR Kaepa®-USA 2007 Girls' Volleyball Championships.)
18 Red Wins Silver Medal at OVR 2007 Championships!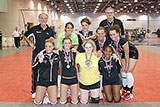 Borderline 18 Red earned a Silver medal in the Copper bracket of the Ohio Valley Region Inc. Kaepa®-USA 2007 Girls' Volleyball Championships. [tournament report]
Savanah Bertsch Signed with St. Joseph's College

Savanah Bertsch signed with St. Joseph's College on April 11, 2007, a division II school, located in Rensselear, Indiana. She will now wear Purple, Scarlet, and Black, and the number 10. Savanah will major in Education. [full story]
18 Red Wins Gold at Piqua!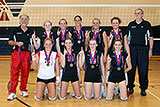 Borderline 18 Red won first place Gold at Piqua Junior High on April 22, 2007. [tournament report]
Jennnifer Fawns Signs with the College of Mount St. Joseph
Jennifer Fawns of the Borderline 18 Hawks signed to play volleyball at the College of Mount St. Joseph. Congratulations, Jennifer!
Kudos to 16 White for Officiating Excellence
I wanted to pass along a complement on one of your teams!
I have the privilege to work with your 16 white last Saturday & Sunday at Sports Express and they were outstanding as my officiating crew!!
Great Girls!!
Joyce Black, OVR Official
15 Hawks Win MHMEQ, Earning Spot at Nationals
The 15 Hawks won 11 matches in a row at the Mizuno Hoosier Mideast Qualifier (March 24-25, 2007). They played all 3 sets of every match on Sunday to win the tournament. They finished 1st of 166 teams to qualify for the sole Club National bid to the 2007 USA Junior Olympic Girls' Volleyball Championships in Minneapolis, Minnesota, in June-July. More information and pictures will follow later. Congratulations Hawks! [tournament report]
17 White Opens the Season With a Fast Start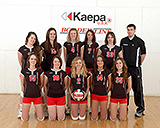 It was Sunday morning and with 2 inches of slush in the parking lot... The Borderline girls put on a skills clinic... Haley Hoffman, Liz Botts and Cecily Greenfield displayed killer blocks against Matchpoint's attempts and put down some serious kills of their own. Libero Amanda Kramb was assisted in the back row by Alexis Mosher, Rachel Thompson, and Katie Merkel. Good passes to Bridget Mears made it easier for her to put up great sets up for the hitters, Jackie O'Meara and Angela "Stu" Steuer, for some strong kills...
16 White Tigers Open 2007 With a Roar
The Borderline 16 White "Tigers" opened their 2007 season with a roar as they captured first place gold in each of their first two tournaments. Coach Kara Kohlenberg has all players contributing to the early season success and has done a great job of blending the players' talents so that all the girls contribute to the wins. "Fear the Tiger"! [tournament report]
13 Middletown Kicks Off Winning Gold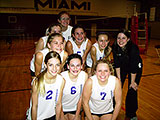 The Middletown 13s won their first tournament of the club season, hosted at Miami University in Oxford. The Middletown Club Team faced their biggest competition in the final round of the tournament, a team in which they were defeated by earlier in the preliminaries. Nichole Stiztel was the team's unstoppable server, while Maggie Pearce, Emily Sexton, and Emma Marcum kept the game alive with their defensive plays in the back-row. Emily Maloney did a great job of controlling the game up at the net while Kristin Thompson used every set that was passed her way. For first year volleyball player Leah Dickinson, her serve receive and passing were spot on. Veteran player Jackie Purcell used her quickness to offset any strategy the other team may have had. Through persistence and focus, they rose to the occasion and beat the Cincinnati Elite Club Team in two games.