Borderline Highlights: 2012-2013 Season
18 Black Win Silver at Troy HS (4/21/13)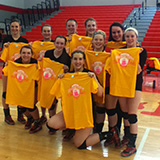 Borderline 16 Black took second at the 4-court 16 Regional tournament at Troy H.S. on Sunday, April 21. They went 6-0 in their pool, capturing exciting wins of 29-27, 31-29, and 26-24. The girls fought hard and pushed through a long day, finally losing to SOVC 16 Hutton in the finals. Great job girls! [tournament report]
18 Hawks Won Gold at Phillips! (4/21/13)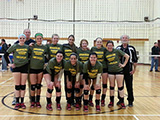 The 18 Hawks were coming off of a 4 week tournament layoff. We hadn't played since the Mideast Qualifier in Indianapolis, Indiana, the weekend of March 22... Next up was a very big, athletic Aleta Aces 18 Blue team ... Things looked bad ... We were looking at a deficit of 8-18, but then something happened! ... [tournament report]
15 Red Win Back-to-Back Silver (4/13-14/13)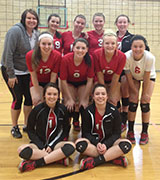 Borderline 15 Red won the Silver Bracket at the 15 Regional and 16 Regional tournaments on April 13 and April 14. [tournament report]
10 "Fighting Armadillos" Win Gold! (4/6/13)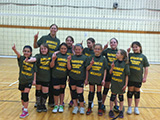 Borderline's 12 "Fighting Armadillos" won Gold at Phillips Hall on Saturday, April 6! [tournament report]
12 Twisters Won Gold at Courts 4 Sports! (3/16/13)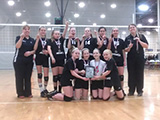 Borderline 12 Twisters won Gold at Courts 4 Sports on March 16! [tournament report]
15 Black Won the Silver Bracket at Miami East HS (3/17/13)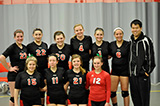 15 Black won the silver bracket at Miami East HS! [tournament report]
14 Rampage Undefeated at Casstown! (3/16/13)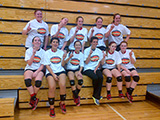 14 Read (Rampage) is proud of their first place win in the Gold bracket at the Casstown tournament on March 16th. Both Borderline 14 Red and Borderline 14 Black (Blackout) teams finished first in pool play. The two teams were excited at the prospect of playing each other for the finals... [tournament report]
18 Hawks Take Silver Title at Bluegrass (3/10/13)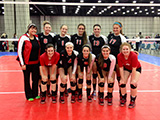 The 18 Hawks were not going to be denied at the Bluegrass Tournament in Louisville, KY on March 9-10. Having narrowly missed in the championship match at their 2 previous events, they had something to prove. The Kentucky Exposition Center was the right place to make amends... [tournament report]
Borderline Bling from Bluegrass
Borderline 18 Hawks, 16 Hawks, and 14 Hawks all medaled at the Bluegrass Pre-Qualifier, winnig plaques 18 Club (Silver), 16 Club (Copper), and 14 Club (Copper).
18 Black Win Silver at Borderline (3/9/13)
16 Black took second at our tournament on March 9! [tournament report]
14 Hawks Win Borderline's Kickoff Tournament! (2/16/13)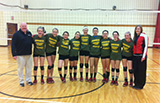 On February 16th the 14 Hawks geared up to play in their first tournament of the 2013 season. The team was anxious to play after several weeks of practice. The Hawks finished 2nd in pool after dropping a match to Grandlake VBC.
They then went to win matches in the Gold Division Playoffs against two very good teams in Borderline 14 Attack and Cincinnati Thunder... [tournament report]
16 Hawks Won Their Opening Tournament! (2/24/13)
The 16 Hawks won their opening tournament in Oxford Sunday going 6-0 and only dropping 2 sets throughout the day. Aggressive serving and consistent passing helped them as they got stronger throughout the day, playing their best volleyball in the semis and finals. [tournament report]
14 Red Won Their Bracket at Parkway HS! (2/23/13)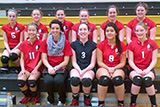 14 Red won their bracket at the Parkway High School tournament on February 23! [tournament report]