Borderline Highlights: 2007-2008 Season
Ruchelle Dunwoody Line Judging NCAA Div I
| | | |
| --- | --- | --- |
| Ruchelle Dunwoody, Borderline 13 Red coach, is selected to line judge at the NCAA Division I Regional Finals at Colorado State University. | | |
Jamie Grauvogel Named All-American
Jamie Grauvogel (Borderline 18 Hawks, 2006) is having a great season at the College of Mount St. Joseph:

[Nov 19, 2008] Jamie Grauvogel was named All-American by the American Volleyball Coaches' Association. [Full story]
[Nov 4, 2008] Jamie Grauvogel was named Division 3 player of the week. [Full story]

Congratulations, Jamie!
Sarah French Going to NAIA National Championships
| | | |
| --- | --- | --- |
| | | Sarah French (Borderline 18 Red, 2008), now a reserve with the Indiana Tech Warriors, is going to the NAIA National Volleyball Championships in Sioux City, Iowa. As of 11/30/08, The Warriors have an impressive 31-3 record. |
Borderline Alum and Coaches Win

Jon Bennett: Lady ThunderHawks Coach and Borderline Coach
MUM Women are Ohio Regional Campuses (ORC) Volleyball Champs! Miami University Middletown's Women's Volleyball Team was unstoppable last weekend in Newark as they clinched the ORC State tournament. [read the full story]
Dana Hamblin Playing for Miami University Middletown
Borderline 16 Hawks at the USA Volleyball National Championships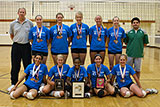 Dallas Texas was the last stop for the 16 Hawks 2008 season. Starting in a tough pool 5, they muscled their way through to a 4-1 record during the first 2 days. The 2nd pool listed Borderline as the #2 seed. Losing a tough one in three to TCA-California, they took it out on Arizona Juniors in a quick 2-game match earning them first place in the pool. The challenge match that evening against Alabama Elite was a battle to the end. Borderline dropped both, 22-25 and 23-25, sending them to the silver bracket. The Hawks finished up on the 4th of July in third place of the silver bracket after taking out Texas Assault but falling to River City in three. The Hawks finished their magnificent season with 139 games won vs. 37 losses. This was a true testament to the dedication of the coaches and players. [tournament report]
Borderline 16 Hawks 2nd at Asics Junior National Volleyball Championship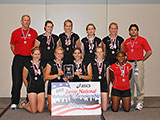 The 16 Hawks traveled to Chicago to play in the 48 team, Asics Junior National Volleyball Championships, 6/13-6/15. Opening the tournament, they cruised against their opponents with a dominating offense. Going into the medal play, the Hawks surprised a nationally qualified Chicago Juniors club in 2 games. The all OVR finals pitted Borderline against CVC 16 Black. The Hawks were handed their only loss of the tournament as they took second in gold. The Hawks compiled a 3-day tournament record of 9 victories against 1 loss. They travel to Dallas and start play on July 1 for the USAV Nationals. [tournament report]
Ohio Valley Region Inc. Kaepa®-USA 2008 Girls' Volleyball Championships: Results
Jackie O'Meara commits to SCC!
Jackie O'Meara of Borderline 18 Red, committed to Sinclair College. Sinclair College is a Division II NJCAA school. They participate in the OCCAC (Ohio Community College Athletic Conference). Last year, 2007, the Tartans took 3rd in the conference. Here Jackie will play for the Tartans, while she is perusing her degree in Radiology. Best of luck for the Future Jackie!
[Sinclair College Women's Volleyball]
Danessa Cutter Commits To Hanover College
Danessa Cutter, Borderline 18 Hawks, has committed to play for the Hanover College Panthers while pursuing a degree in Secondary Education. Hanover College is a NCAA Division III school and participate in the Heartland Collegiate Athletic Conference (HCAC). The Panthers come off of a very successful season, having won the conference title and participating in the NCAA Div. III National Championship Tournament.
[Hanover College Women's Volleyball]
Leah Cole Commits to "The Mount" (College of Mount St. Joseph)
Leah Cole, Borderline 18 Red, has committed to play volleyball for "The Mount". The College of Mount St. Joseph is a Division III school located in Cincinnati. The Lions play in the Heartland Collegiate Athletic Conference (HCAC) where they have won eight HCAC titles in nine years of play. Leah will pursue a degree in Special Education while attending The Mount.
[College of Mount St. Joseph Women's Volleyball]
15 Red Win Again!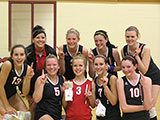 Borderline 15 Red won gold at Phillips Hall on May 3. The team coached by Dana Heileman, took gold for the second time this season. The 15 Red ladies persevered in a hard fought final match by beating a higher ranked opponent in three games. [tournament report]
Borderline 13 Red Captures Gold!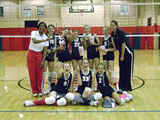 On April 26 in Middletown the Borderline 13 Redhots achieve perfection by finishing the day 5-0 in route to the championship. The team finally turned the corner after winning silver in their first six tournaments and second place in gold last weekend in Syndey, Ohio. Congratulations Redhots on a job well done! [tournament report]
Elizabeth Botts Accepts Offer at Depauw
| | | |
| --- | --- | --- |
| Elizabeth Ann Botts, Borderline 18 Red, is pleased to announce she has accepted an offer to play volleyball at Depauw University in Greencastle, Indiana. Founded in 1837 by the Methodist Church, DePauw University, an NCAA Division III school, is a private, selective, coeducational, residential, undergraduate College of Liberal Arts and School of Music. Depauw is a member of the Southern Collegiate Athletic Conference (SCAC) and is comprised of twelve teams in nine states. | | |
17 Red Win Gold at Phillips!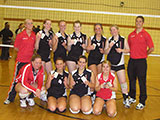 After two second place finishes at Sidney early in the season and at Wittenberg the week before, the Firecrackers were determined to finish on top... The Borderline team quickly sealed the tournament win as they won 15- 9 to close the day on top. [tournament report]
Kim Rosen Commits to Shawnee State!
Kim Rosen (Borderline 18 Hawks) verbally committed to play volleyball for the Bears of Shawnee State University in 2009. Shawnee State University is an NAIA Division school located in Portsmouth, Ohio, and competes in the American Mideast Conference. Congratulations Kim!
[Shawnee State University Volleyball]
15 Red Goes Undefeated!
Borderline 15 Red won 1st Place Gold with a perfect 12-0 day on April 12 at Phillips Hall, Miami University. [tournament report]
Courtney Flory Signs with Indiana University East
| | | |
| --- | --- | --- |
| Courtney Flory (Borderline 18 Hawks) signed with Indiana University East. Congratulations, Courtney! | | |
18 Red Wins at Withrow!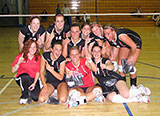 Borderline 18 Red won the Gold at Withrow Court, Miami University, on April 13, 2008. [tournament report]
Consistency Pays Off for 14 Attack!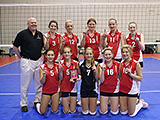 The 14 Attack team, coached by Jon Bennett, took 1st place in Silver on Sunday, March 30, at the 2008 Mid East Qualifier... 14 Attack ended the weekend with a 5-3 record, finishing 1st in Silver and 15th overall in the 2008 Mid-East Qualifier. [tournament report]
The 16 Hawks Pull Off the Trifecta and a Trip to Nationals!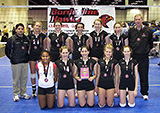 The Borderline 16 Hawks completed a successful run in three major tournaments... The American Bid to the National Championships in Dallas went to the Borderline 16 Hawks as they qualified for the 2nd year in a row. [tournament report]
Borderline Coach and Alumnus Receive Collegiate Honors
Michele Metzler of the 2007 Borderline 18 Hawks was named "Freshman of the Year" by the Mid American Conference coaches on Thursday, November 15.

At the same ceremony, Miami RedHawks Head Coach and Borderline Master Coach Carolyn Condit was named "Coach of the Year".

Read the full story at the RedHawks' website!




Michele Metzler,
Borderline 2007