Borderline Highlights: 2011-2012 Season
Ohio Valley Region Inc. Kaepa®-USA 2012 Girls' Volleyball Championships
Congratulations to all the Borderline teams who participated in this year's OVR Regionals.
15 Attack Finish Strong at Regionals (5/13/12)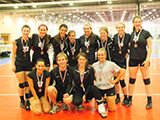 15 Borderline Attack finished their 2011-2012 season with a 3rd place finish in Platinum. They ended their season strong and played extremely well in their final tournament play. Congratulations girls, you deserve it! [tournament report]
13 Black at Regionals (5/5/12)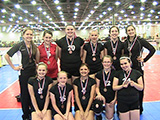 13 Black finished their 2012 season with 3rd-place Tungsten finish in the OVR Girls' Volleyball Championships.
15 Attack Win Gold in Franklin (4/28/12)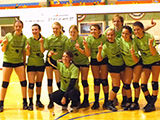 After a hard-fought victory in pool play, Borderline 15 Attack came home with the Gold at the 15R Kingdom Sports tournament in Franklin, Ohio. The team started off behind, losing the first match against SOVC Blue Kights. However, 15 Attack fought back in their next match against Cincinnati Volleyball Academy (CVA). Playing best of 5, 15 Attack lost their first two sets, then went on to win 3 consecutive sets which earned them a spot in the Gold bracket... [tournament report]
16 Attack Win Gold! (4/1/12)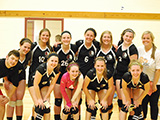 Borderline 16 Attack came home with the Gold at the 17R Borderline Tournament on April 1st! After a long, exhausting day, the team could not be happier to finish the way they did. They started off strong winning the first two pool matches, then suffered a close loss to Toldeo Dynamic. Happy to move to the gold bracket and finishing 2-1 in pool play, the best part about the morning was seeing major improvements on the skills the girls have been focusing on in practice... [tournament report]
15 Hawks Swoop In for a Win (2/19/12)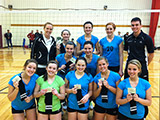 The 15 Hawks' 2012 tournament season got off to a strong start. They competed in their first 16 Regional tournament on February 19 at Phillips Hall. They went undefeated in pool play, not even losing a set. They beat Positively Charged Volleyball Club 16 Griffis, Blue Crush 16 Black, and Cincy East VBC 15 American Navy. After each match we talked about coming back to the next match and stepping it up a level... [tournament report]